What effect is the pandemic having on homeowners and lenders? Why are very few new community banks being chartered each year? With vacation rentals reducing available home inventory, what can be done to ensure homeownership is still an option for people? And with homeownership rates differing across demographic groups, how can the banking industry facilitate more equitable homeownership?

Students at Montana State University had the opportunity to hear national leaders address these and other questions during a roundtable held online Thursday, Oct. 1.

"Opportunities and Challenges for Home Ownership: A Virtual Roundtable Discussion" was presented to students, area bankers and others as part of the MSU Jake Jabs College of Business and Entrepreneurship's Community Banking Program. Panelists included Michelle "Miki" Bowman, Federal Reserve governor and voting member of the Federal Open Market Committee; Kathy Kraninger, director of the Consumer Financial Protection Bureau; Rebeca Romero-Rainey, president and CEO of the Independent Community Bankers of America; and Melanie Hall, commissioner of the Montana Division of Banking and Financial Institutions.

"This roundtable featured an extraordinarily impressive panel of speakers, including national leaders in the banking industry," said Mark Ranalli, dean of the Jake Jabs College of Business and Entrepreneurship.

During the roundtable, each panelist shared homeownership information related to their area of expertise. The majority of the hourlong discussion was reserved for answering student questions.

"This roundtable discussion gave our students unique insights into the community banking industry," Ranalli said. "It's a great example of the sorts of opportunities that are available to Jabs' students through our Community Banking Program."

The Community Banking Program is a partnership between the Montana banking community and MSU's business college. The program, which launched in 2017, is intended to help meet the demand for well-trained graduates interested in careers in banking, according to Tim Harvey, an adviser for the program and an instructor in the business college.

Students in the program complete coursework related to community banking and then complete a paid internship with one of the participating banks across the state of Montana. Students receive academic credit for their internship. The program also arranges opportunities to listen to guest speakers and participate in industry events.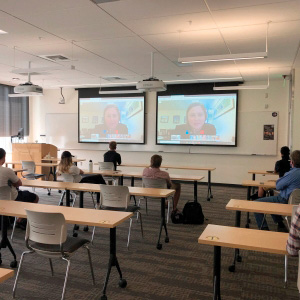 MSU students in Jabs Hall listen to a leader in the banking industry address questions related to homeownership during a virtual roundtable discussion held online Thursday, Oct. 1. The discussion was presented to students, area bankers and others as part of the MSU Jake Jabs College of Business and Entrepreneurship's Community Banking Program. Submitted photo.
"The program's strengths are that it provides a pipeline of trained and experienced graduates to fill positions in Montana banks and an opportunity for MSU students and graduates to have professional-level careers without leaving Montana," Harvey said. He added that the program is guided by an advisory committee of Montana bankers who help ensure MSU delivers training and experience to graduates that will make them as marketable and competitive as possible after their graduation.

"We have placed our students and graduates in banking positions ranging from consumer and commercial lending to audit, marketing, data analysis, agricultural lending, regulatory compliance, mortgage lending, bank operations and wealth management," Harvey said. "There are certainly career opportunities in banking beyond finance and accounting jobs that we associate with the industry. And banks are hiring right now and are hungry for new talent."

An information night is set for Thursday, Nov. 5, for students who would like to learn more about the Community Banking Program. More information is also available at montana.edu/business/finance/community-banking.html. A recording of the roundtable discussion is also available on the Community Banking Program website.
The Montana Independent Bankers Association