"Just as we responded to the PPP loan curveball, so, too, have we been there to address the additional hurdles our customers face."
When we flip our wall calendars to October, we're regaled by images of pumpkins, ghosts and black cats. Halloween — the ultimate holiday of imagination — draws out the creative side in all of us.
But this year, as we suit up for Oct. 31, 2020, we do so under the blanket of COVID-19. The weight of that experience shifts the dynamic. In fact, given what we've dealt with this year, we all should be donning our favorite superhero uniforms. The lengths to which community bankers have gone in support of their customers is nothing short of heroic.
Superpowers aside, the future remains uncertain. With so many unknowns in the wake of the pandemic, forecasting what will happen tomorrow or next week — let alone next month or in a year — feels nearly impossible.
Yet, that's precisely what we're doing for our customers. Just as we responded to the Paycheck Protection Program (PPP) loan curveball, so, too, have we been there to address the additional hurdles our customers face, from loan accommodations to financial literacy knowledge and beyond. It is a disorienting time, to say the least. Still, community bankers are excelling for our customers because we continuously ask: How can we use the current circumstances to become more resilient and strengthen our business model?
Community bankers do not stand idly by and contemplate what's next. Instead, we act in support of immediate needs. Through thoughtful innovation, we persevere in addressing our customers' top issues. Yet, as we innovate, we are also required to evaluate how new processes, procedures and solutions fit into the regulatory framework. In an environment where compliance accounts for upwards of $4.9 billion of community bank expenses, what more can we expect from new programs like PPP?
These concerns have been bubbling up of late because the regulatory environment will dictate or limit what our future models may look like. So, as you dive into this month's issue, I urge you to do so with an eye toward areas of opportunity. As an assembly of community bankers at ICBA, where can we address the places where regulation and compliance may hinder our natural business growth? What actions do we need to take to ensure we have room to evolve to meet future customer needs?
While we can't predict the future, we can speak to one truth with absolute certainty: Community banking will not just survive but will thrive and flourish in the years to come. Because, despite the odds, in superhero sagas, the good guy always wins.
What you need to know
Virtual education is a turnkey way to support your staff's ongoing professional development. Virtual Community Banker University courses provide education and training around timely topics, including emerging regulatory issues.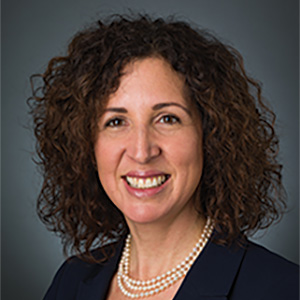 Rebeca Romero Rainey, President and CEO, ICBA

Connect with Rebeca @romerorainey