Opportunity Bank of Montana Celebrates 100 Years of Community Banking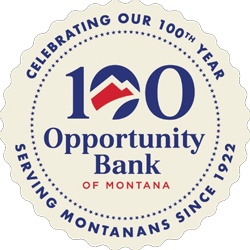 Opportunity Bank of Montana opened its doors in August 1922 as American Building and Loan with a single office in Helena, Montana. Growth and charter changes led to several name changes over the last century. In 2014, the Opportunity Bank brand was born because that's what we're passionate about: creating opportunities for Montanans.
Today, Opportunity Bank is the fourth-largest banking institution headquartered in Montana and one of the largest serving Montana exclusively. The bank currently operates 23 full-service branch locations in 16 unique communities across the state and a Community Banking Office (DPO) in Winifred, Montana. The bank is a leading Farm Services Agency guaranteed lender and a leading residential mortgage lender in Montana.
We're celebrating our 100th year in business, and we're calling it the Big 100. It's a celebration of this community, the good people who live here, and the businesses we've helped build across a hundred years. We want to make our 100th anniversary more than just a date on our timeline; we want it to be a yearlong celebration of our history, our values, and our love for Montana.
During this time, we will:
Tell 100 Stories. We will tell the stories of Opportunity Bank of Montana, our people, the places we serve, and the impact we've made.
Share 100 lessons. We will share 100 lessons learned in 100 years of business. Lessons learned by employees in business and life.
Give 100 Gifts. Through donations or gifts of time and talent, we will make 100 gifts to the communities we serve.
The history of Opportunity Bank is one of resilience and growth, one that illustrates the value of investing in community. For more information about Opportunity Bank, visit opportunitybank.com. To share in our celebration, visit opportunity100.com.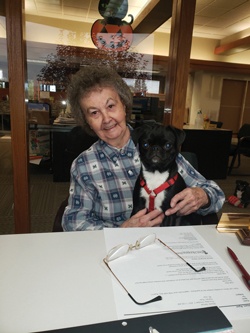 In Butte America, there is a woman who inspires with her get-it-done, Butte-tough work ethic and quick sense of humor. That woman is Joan Ray, a member of the First Montana Bank family since the day the branch opened its doors in 1995.
Having recently celebrated her 85th birthday, Joan says the secret to keeping up with the busy pace is that she truly enjoys her work, adding that the social aspect of the job and being around staff and customers keep her young, too.
She and her beloved pup, Pepper, are a mainstay of the family atmosphere at the bank. When asked what she enjoys most about working at First Montana Bank, she replied, "The people I work with, the job that I do, and the customers I get to meet with every week."
Ryan Nielsen, Market President, commented, "Joan is more than just an employee here. She is family to everyone."
Asked if she had ever thought about retirement, she replied in true Joan fashion, "No. Not yet." Bank on, Joan. Bank on!