Pioneer Federal Savings & Loan Earns Top Recognition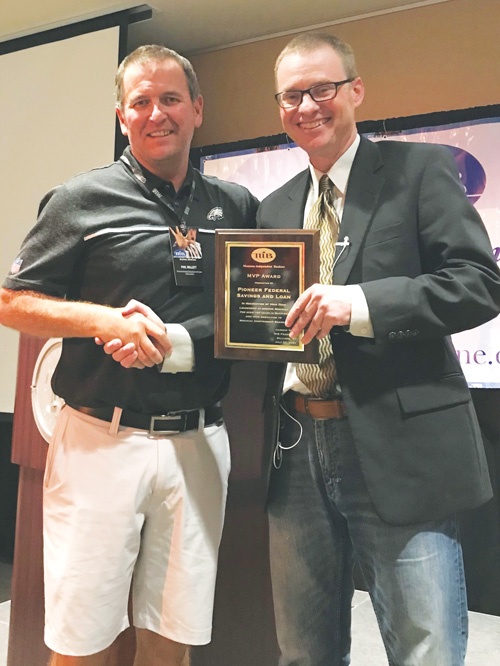 Montana Independent Bankers Association held its 54th annual Convention and Trade Show in Billings July 22-24 with independent community bankers and vendors.
Jim Brown, Executive Director of the Association and a Dillon native, presented Pioneer Federal Savings and Loan of Dillon and Deer Lodge the MVP award in recognition of their team leadership in serving Montana for over 100 years in banking and their dedication to Montana Independent Bankers.
Brown stated, "Pioneer Federal has repeatedly brought the most attendees to the convention from their bank than any other bank in the state. Their President and CEO, Phil Willett, serves on the board of directors of MIB. Any activities put on by the association either for education or for fun, such as association-sponsored tailgate parties, you will always find someone from Pioneer representing their bank in attendance."
Montana Independent Bankers represents community or independent banks that are locally owned, often by multiple generations of the same family, just like other Montana local businesses. While community banks often have more than one branch, they all remain small enough to emphasize the small-town values of frugality, responsibility, quality personal service, and intentional investment of both time and resources back into their local communities.
For more information and to see if your bank is a community bank, visit our website for a list of members at mibonline.org.
Beartooth Bank Opens New Branch
Beartooth Bank, a division of American Bank Center, celebrated the grand opening of its newest location in downtown Billings with a ribbon-cutting Monday, May 17. This is Beartooth Bank's second location in Billings, located at 123 N. Broadway Avenue.
The community was invited and encouraged to tour the new 7,000 square-foot bank and register for prizes during the grand opening celebration May 17-20.
In addition to personal banking services, this new downtown location is focused on offering effective and efficient banking solutions for businesses. Services provided here include commercial lending, agricultural banking, retail, digital services, consumer lending, and home mortgage. There will be an opportunity for future expansion to also meet customers' trust and insurance needs.
Additionally, the bank features American's Branch of Tomorrow concept, which includes industry-leading technology and a model of service that provides more convenience by having one point of contact for all of a customer's banking needs.
Beartooth Bank's other location is at 4130 King Avenue W., Billings.
To learn more about Beartooth Bank, visit BeartoothBank.com. For more on American Bank Center, visit WeAreAmerican.bank.
United Bankers' Bank Welcomes Jennifer Severson as new Chief Financial Officer
Dwight Larsen, President and CEO of United Bankers' Bank (UBB), is pleased to announce the appointment of Jennifer Severson as Executive Vice President and Chief Financial Officer. Severson has over 19 years of experience in community banking. Before joining UBB, Severson was the Chief Financial Officer and Chief Operating Officer at Stonebridge Bank. In her role, she managed the bank's accounting, finance, HR, IT, compliance, and operations areas before its acquisition by American National Bank, where she was most recently Senior Vice President and Senior Director of Minnesota Credit Strategy. Her banking career has also included roles in Credit and Client Service at M&I Bank in Minneapolis, Commercial Lending at FisTier Bank in Boulder, CO, and Commercial Real Estate Lending at Citizens Bank of Massachusetts in Boston, MA.
"I am excited to serve the UBB team and look forward to partnering with fellow Senior Managers and the Board of Directors to achieve the company's strategic goals," Severson commented. "The reputation United Bankers' Bank has built by putting the success of their customers first truly speaks to the heart of the community banking industry."
"Jennifer's community banking background and broad range of work experience set her apart and demonstrated her fit to the professionalism and culture of UBB," states Larsen. "Her wealth of knowledge will prove to be a great asset to our organization."
Severson received her undergraduate degree in business and psychology from Augustana University in Sioux Falls, SD, and her MBA with a concentration in finance from the University of Colorado at Boulder.
For more information, please visit ubb.com.