I am honored to be a featured associate member of the Montana Independent Bankers Association. As I have interacted with my clients in the Montana banking community, I was able to glean some insight into what might be of interest to you in an article. Health benefits are one of the most expensive line items for our Montana Community Banks. The industry changes rapidly and is affected by many factors, including the healthcare system, carrier decisions, new marketplace programs, legislation and many others. In this article, I will discuss national benchmarks, address how COVID-19 could affect health benefits in the future, and review several cost management strategies available to employers.
Benchmarking: How do you compare?
In a study done by The Kaiser Family Foundation last year, a firm in the finance industry pays an average total monthly premium of $587 for single coverage and $1,731 for family coverage. This single coverage is slightly lower than the average across all industries, which is $599 per month. The family coverage is a bit more than the cross-industry average, which is $1,715 per month.
Here are some statistics produced by the 2019 Zywave Benchmarking Survey:
Over 50% of employers contribute $5,000 or less toward employee-only premiums and $10,000 or less toward family premiums annually
51% of employers have a fully insured plan
42% of employers have a partially or fully self-funded plan
97% of employers provide coverage for prescription drugs as part of their health care plan
93% of employers offer dental benefits
88% of employers offer basic life insurance — 93% of those employers pay the entire premium
79% of employers offer AD&D coverage — 74% of those
employers pay the entire premium
70% offer short-term disability insurance — 54% of those employers pay the entire premium
How will COVID-19 affect health care costs?
Research shows there are two major drivers that will have the biggest impact on healthcare costs. First, the direct medical costs through the testing and treatment of COVID-19 patients. The virus has the capability to overwhelm hospital capacity, causing increased staffing needs, a required purchase of expensive medical equipment beyond the standard, and increased testing resources. The CARES Act allocated $100 billion in stimulus funds specifically for medical providers to offset lost revenue, but it is unclear at this time if that will cover what is needed.
Second, the deferral of care for elective or non-emergency medical needs. It is likely that the pent-up demand for medical services will cause a significant increase in future costs, and this is where we anticipate the largest financial impact of COVID-19 to come from. These services will likely be scheduled in the future, and the biggest variable is when. Health insurance carriers make their assumptions on medical costs months in advance, and each carrier uses a different algorithm for calculation. These costs are then set based on those results for employers to see during renewals and quoting for their own health benefit plans. It is up to employers and their health insurance consultants to best navigate the resulting costs. There are plenty of options available to employers to adjust and be in the best possible position as the true cost impacts are revealed.
Cost: Where do we go from here?
Premiums have seen an increase across the benefits tiers. One major reason for higher premiums is simply the cost of prescription drugs. This is one of the largest challenges facing our community bank employers and families here in Montana. Policymakers have focused on evaluating rebate programs from manufactures to help encourage transparency. Insurance carriers work with pharmacy benefit managers (PBMs) to provide the best cost options available to its members. On a member level, individuals are encouraged to take advantage of any discount coupons and patient assistance programs and find lower-priced alternatives where possible to reduce cost.

Deductibles have also seen an increase of 36% over the last five years and 100% over the last 10 years. A large reason for this increase is due to the offering of HDHP (High Deductible Health Plans) and employees preferring the high deductible options with lower premiums rather than the traditional options with copays that often come with lower deductibles. Some 75% of firms that offer health benefits offer only one type of health plan option, so many employers have decided to opt for the HDHP plan only.
There are several cost management measures that community banks in Montana have used successfully.
The No. 1 most used measure is to offer resources to
help employees become better consumers of their health care. Encourage team members to use their preventive benefits and those with chronic conditions to work with their doctors regularly on condition and medication management.
Employer or carrier provided wellness initiatives, including risk assessments, have proven effective in cost management.
Cost-sharing: In order to be eligible for a tax credit, businesses must pay at least 50% of the employee only medical premium. Although 50% is the minimum, many employers choose to contribute more. In fact, according to the 2019 benchmarking report by Kaiser, the average total annual premium for single employee coverage is $7,188, and of that amount, $5,946 was paid by the employer and $1,242 was paid by the employee, which is an 83%/7% breakdown.
Employee communication on the benefits offered and access to care has proven successful also in cost management.
Use your employer resources and evaluate your program often: your employee benefits representative can help you take a deep dive into what options are available in Montana and what is the best fit for your group. Options change regularly, and more are coming to Montana every year.
I invite you to reach out to me for any of your benefits questions or assistance in considering your options. I look forward to meeting you and crossing paths in the future.
Warm regards,
Kindra Warman
Employee Benefits Consultant, Leavitt Great West Insurance, 1419 North 14th Ave Unit B, Bozeman MT 59715
Phone: 406.586.8043, Direct: 406.551.4167, Cell: 406.581.8343,
kindra-warman@leavitt.com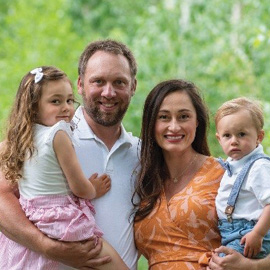 Kindra Warman is a licensed employee benefits consultant out of Bozeman, Montana, with Leavitt Great West Insurance. She has 10+ years of experience in employee benefits in the banking industry and specializes in working with community banks here in the state to find and design cost-effective group benefits programs. She is an associate member of the Montana Independent Bankers Association. Kindra is from Gallatin Gateway, Montana. She graduated from Colorado State University and lives in Bozeman with her husband, Ryan, and two young children.